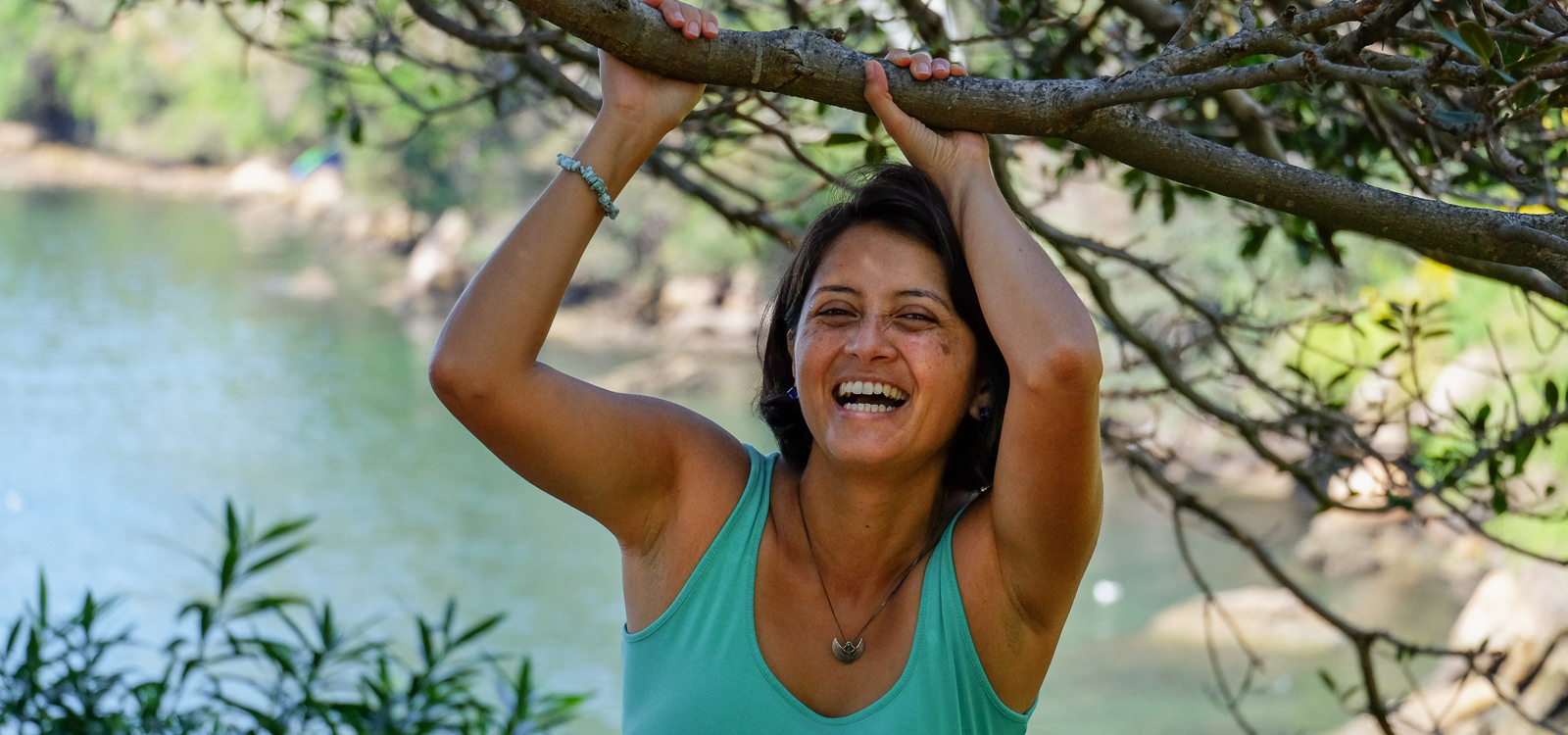 #6 – Laura : 

« I got to reinvent myself in Australia »
Laura is 36 and comes from Bogotá in Colombia.
She flew to Australia 7 years ago to visit her Irish crush she had briefly met back home while he was travelling in Colombia.
She didn't know anything about Australia but trusting her instinct, she left her job and her life in her home country to see what would happen there with him.
When she arrived, she felt « it was right » and that « the energy was very welcoming ».
She is now married to this Irish man and happily settled in Sydney where she started a new career as an energy healer and a health coach. 
Listen to Laura's interview
Laura has such a positive and radiant personnality, I really wanted to capture this light that shines every time she laughs!
For this photo shoot we went to Cremorne Reserve on Sydney's North Shore where you can find rainforest as well as great views of the city.
« We have both learned to trust more.
We let things happen, things to be shown to us » 
Laura's guide to Australia and Colombia
Top 3 places in Australia
I actually haven't travelled much in Australia. However I do have a few favourites from the places I have visited:
Byron Bay: great energy and atmosphere. A beautiful place to find your way back to you, and eat healthy and delicious things! My favourite desert was a raw tiramisu at Naked Treaties.
Melbourne: a beautiful small city with gorgeous little cafes in which to get lost while you read a book and sip on a chai tea or a cup of coffee. I love Flinders Lane.
Hamilton Island: to me this place means romance. My husband and I went there for our second anniversary and had the best time. It is like a small little town, where there are no cars but you actually have everything you need. The water is beautiful, the food is delicious and you can walk all along the island and even try go karting with your loved one!
Top 3 to do in Sydney
Going for a chai tea to Open Circus Cafe or HeirloomCafe, for a hot chocolate to The Raw Hub in Mosman, and for a nice brekkie to Ruby Lane in Manly.
Going for a walk along the coast, especially from Mosman, passing via Cremorne Point and then crossing the Harbour Bridge all the way into the city.
Going for an ice cream to Messina in Surry Hills.
Top 3 suburbs of Sydney
Mosman
The Rocks
Surry Hills
Top 3 around Sydney
The Blue Mountains: for their peaceful, loving energy. This place really enhances your connection to your Spirituality.
The Central Coast: because it has so many different beaches to explore. Perfect for picnic-ing all day!
Port Stephens: particularly Boat Harbour. The most gorgeous lookout ever, especially to see the sunset and to spot some whales!
Top 3 in your neighbourhood: Mosman
Walking to Balmoral Beach in the morning and then walking to either the rocks at Rocky Point or the rocks that connect Balmoral Beach to Chinamans Beach and stay there for a short meditation. Rejuvenating!
Going for a broccolini salad to Open Circus Cafe, delicious, fresh and great price!
Taking the ferry from Mosman Bay to Circular Quay. The shortest, most beautiful trip ever on a boat!
Top 3 cities in Colombia
My hometown: Bogotá. Crazy city, but it has absolutely everything you could ask for.
Villa de Leyva: a gorgeous, colonial town, surrounded by mountains. For a romantic trip or just to unwind.
Cartagena, in the Carribbean coast of Colombia. Love the walled city, the people, the food, its vibe, this city is so much fun!
Top 3 in your home city: Bogotá
La Candelaria and walking around downtown Bogotá. I just love the mix of old and new in this part of the city. The full contrast of Bogotá is found in this area, plus some beautiful colonial buildings.
In this area visit: Museo Botero, Museo del Oro, the Luis Angel Arango public library, the Plaza de Bolivar and if feeling adventurous, climb Monserrate.
If hungry, go for a bite to La Puerta Falsa for some proper Santafereño afternoon tea, and late at night go dancing at El Candelario. I hope it's still as good as it used to be!
Visit Crepes & Waffles for a lovely crepe and a delicious ice cream cone. Great price and service.
And not really in Bogotá, but a bus trip away: visit the Laguna de Guatavita (Lake Guatavita). A gorgeous, sacred place for the Muisca people (an indigenous tribe of Colombia). This is where the El Dorado legend came from! You leave this place feeling renewed!