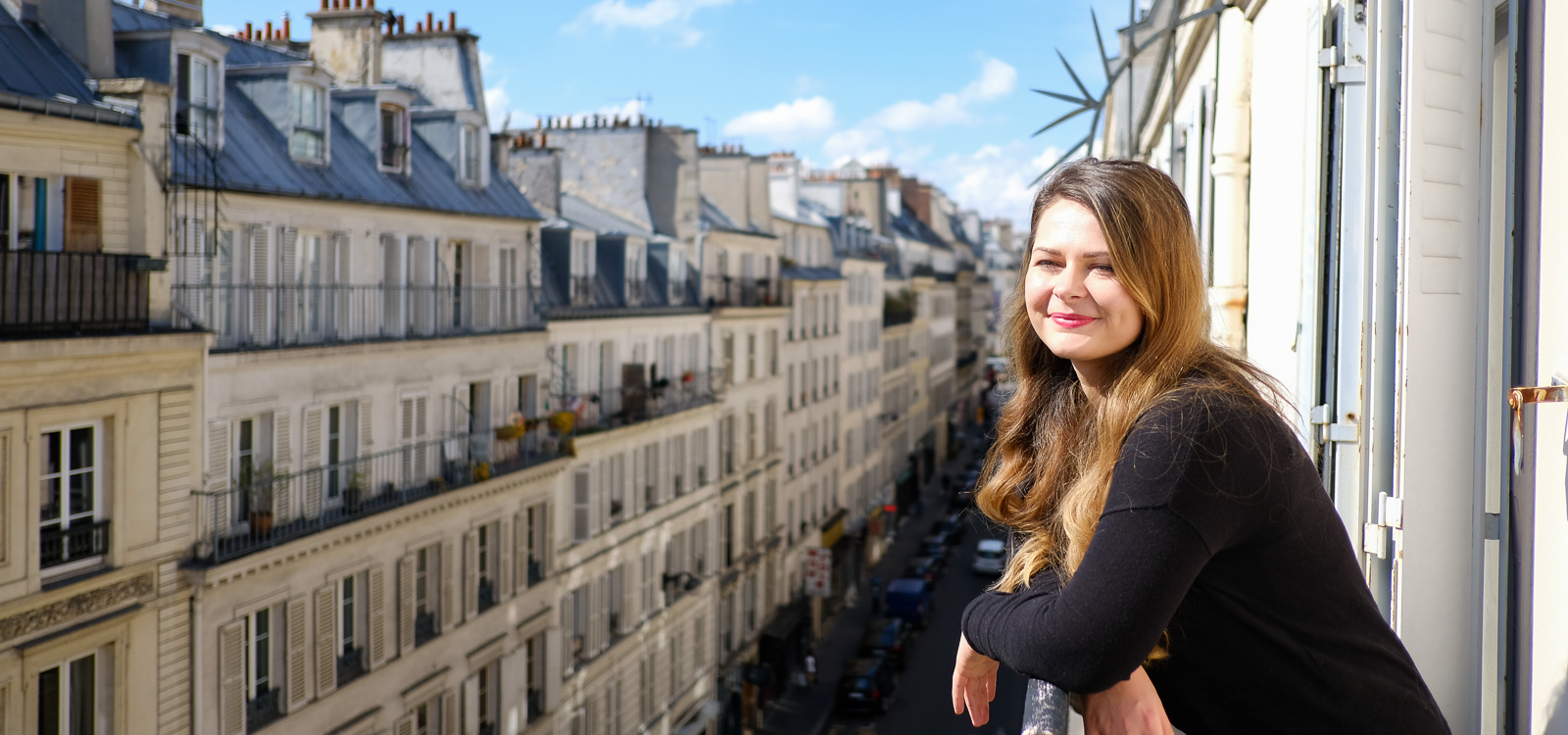 #7 – Rosie : 

« I feel like I've learnt everything in Paris »
Rosie is a Kiwi (she comes from New Zealand) who has been living in Paris for 5 years.
She met her French partner back home while he was doing an internship there. Their relationship then survived the long distance for 14 months (!!!) before they decided to settle together in Paris in France.
Rosie followed an international masters course in a French Human Resources school and got hired by one of the most iconic French companies: L'Oréal.
Last year she launched a YouTube channel, Not Even French, to share her vision of France and the cultural shocks she has been facing since she lives there. This is how I got to know her and thought it would be very interesting to hear her story!
Listen to Rosie's interview
We met at her flat in the 9th arrondissement of Paris where she usually shoots her videos.
Her balcony facing the typical Parisian rooftops was absolutely perfect for the photo shoot!
« Taking a big lunch break at work is crucial because every minute you're investing in your colleagues will make your life easier for future work and collaboration together. »
Rosie's guide to France and New Zealand
Top 3 places in France
Southern Corsica
Avignon and surrounds in Provence
Saint-Malo (eat crêpes).
Top 3 to do in Paris
Rooftop bars with amazing views (e.g. Le Perchoir).
Biking along the Seine.
Going to as many exhibitions as possible.
Bonus: Disneyland (sorry, not sorry)
Top 3 arrondissements/suburbs of Paris
The backstreets of Montmartre for their village feel.
The 6th arrondissement for a bit of everything beautiful.
Ile de la Cité because that's where I go to reming myself how lucky I am to live here
Top 3 around Paris
Versailles
Château de Vaux-le-Vicomte
Fontainebleau (I have a thing for castles…).
Top 3 in your neighbourhood: the 9th arrondissement
Pink Mamma italian restaurant.
Bar à Bulles for an afterwork drink and nibbles in a little courtyard behind the Moulin Rouge (you can see the blades turning).
Hardware Societé for the best brunch I've found in Paris (flagship was Hardware Society in Melbourne).
Top 3 cities in New Zealand
Coromandel region: hot water beach is a must
Abel Tasman National Park
Fiorland National Park.
Top 3 in your home city: Wellington
Rollerblade along Oriental Parade (with an ice cream in hand).
Take the cable car up to get a great view over the city
Te Papa museum: free and excellent.
Thanks Rosie!
Follow her on her excellent YouTube channel for stories, tips and insights on life in France. She's also on Instagram and Facebook and recently launched her online store Francophiles Designs where she sells « merch and streetwear for French Culture, Language and Lifestyle addicts ».
Bonus: we also shot a video about the culture shocks I have experienced living as a French expat in Australia. Check it out below!